Wine is more than just a beverage.
It's an experience that has been cherished for centuries. As a luxury interior design firm, we understand the value of well-crafted wine storage solutions.
Many of our clients come to us seeking a designated space to store their wine collection and we work collaboratively to create custom wine racking and shelving that not only meets their unique needs but seamlessly integrates with the design of the whole home.
Continue reading to explore five high-impact wine storage solutions we've incorporated into our whole home designs!
1. Temperature-Controlled Wine Room
Temperature-controlled wine rooms are a luxurious addition to any interior design and something we often incorporate into our designs. Since wine is a delicate drink that requires specific storage conditions to maintain its quality, a temperature-controlled wine room provides an ideal storage location.
In addition to the practical benefits, wine rooms add a touch of elegance and sophistication to the space.
Here, we incorporated a temperature-controlled wine room with glass tile walls and centered custom display boxes:
2. Wine Cellar
A wine cellar is a high-impact way to store wine that seamlessly integrates with the overall aesthetic of the interior design and also adds an additional space to entertain.
Wine cellars have long been a staple in luxury interior design, offering a timeless and sophisticated storage solution for wine enthusiasts—providing the ideal storage conditions for wine, including controlled temperature and humidity levels.
Take the wine cellar we designed, which provided a distinctive chance to display a wine collection and infuse the home with a sense of sophistication. Through customizable elements like lighting, flooring, and wall finishes, we crafted a wine cellar that not only houses wine but also serves as a stunning space for entertaining.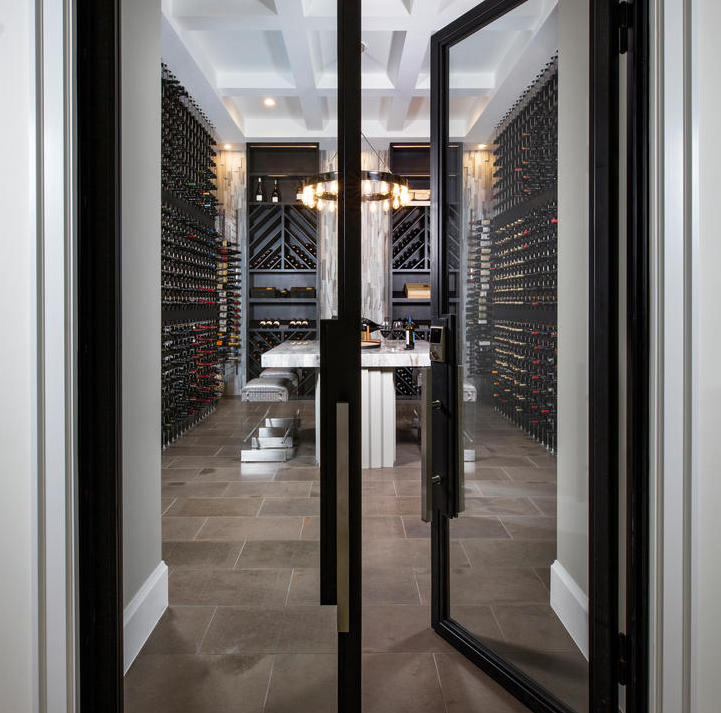 3. Wine Walls
Incorporating a wine wall into your home is an exceptional and striking way to store wine.
This unique storage solution typically comprises floor-to-ceiling wine storage that creates a visually stunning display for a wine collection. It also provides the flexibility to accommodate different bottle sizes and shapes, making it an adaptable choice for your collection.
Below, we utilized custom elements such as lighting and shelving, to create a wine wall that serves as a captivating addition to this Great Room.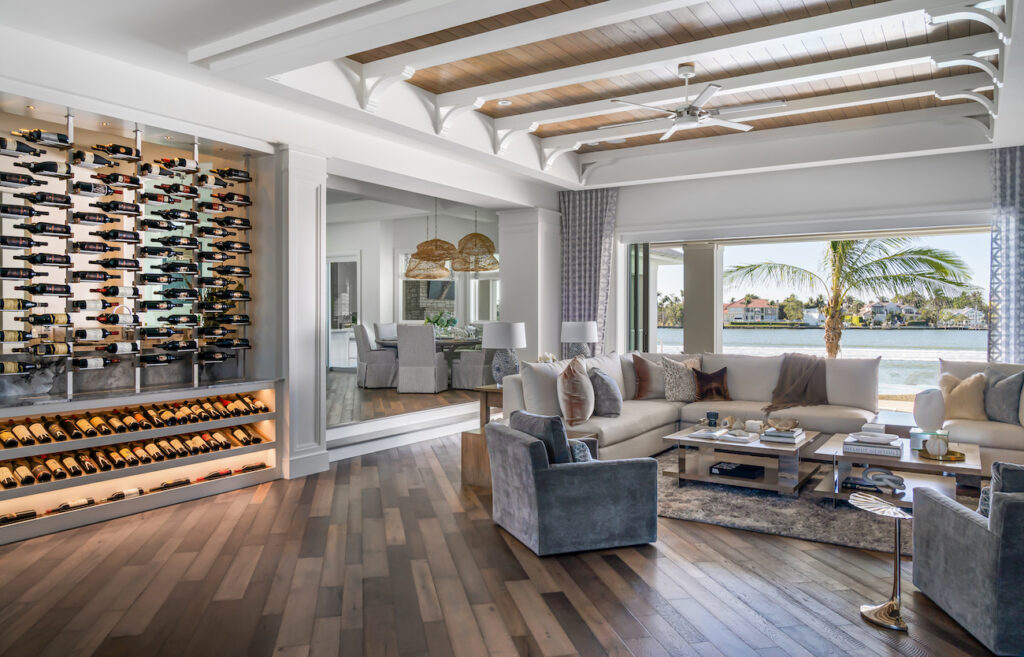 4. Custom Wine Refrigeration
Custom wine refrigeration can be a convenient and high-impact storage solution for your wine collection. This can be built into your kitchen area to match the aesthetic of the space.
Custom wine refrigeration offers the flexibility to store both red and white wines at their ideal temperature, allowing you to expand your collection without worrying about storage limitations.
In this kitchen area, we created a wine fridge that seamlessly integrates with the overall aesthetic of our client's home with design elements such as shelving and door design.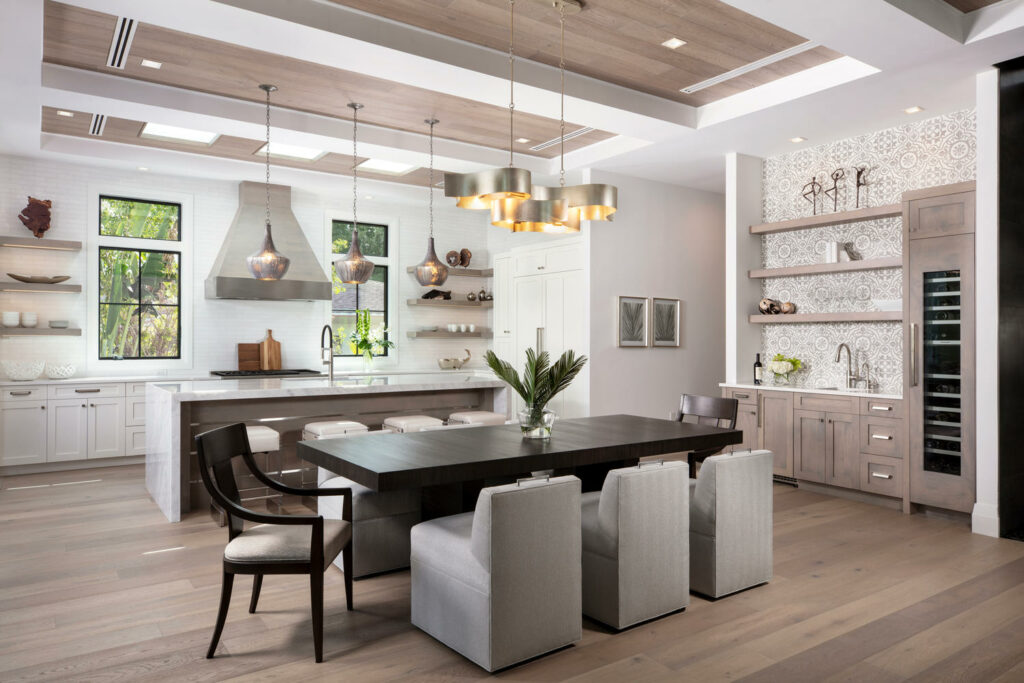 5. Built-In Wine Rack
Built-in wine racks are not only functional but also aesthetically pleasing, offering a sleek and seamless storage solution for your wine collection. These racks are typically integrated into cabinetry or shelving units, creating a streamlined and cohesive look in the space.
In addition to providing a functional storage solution, built-in wine racks also offer a stylish way to display and organize a wine collection. They allow for easy access to bottles, making it easy for you to select the perfect wine for any occasion.
When designed correctly, built-in wine racks can become a stunning design element in your space, adding a touch of sophistication and elegance to the overall design.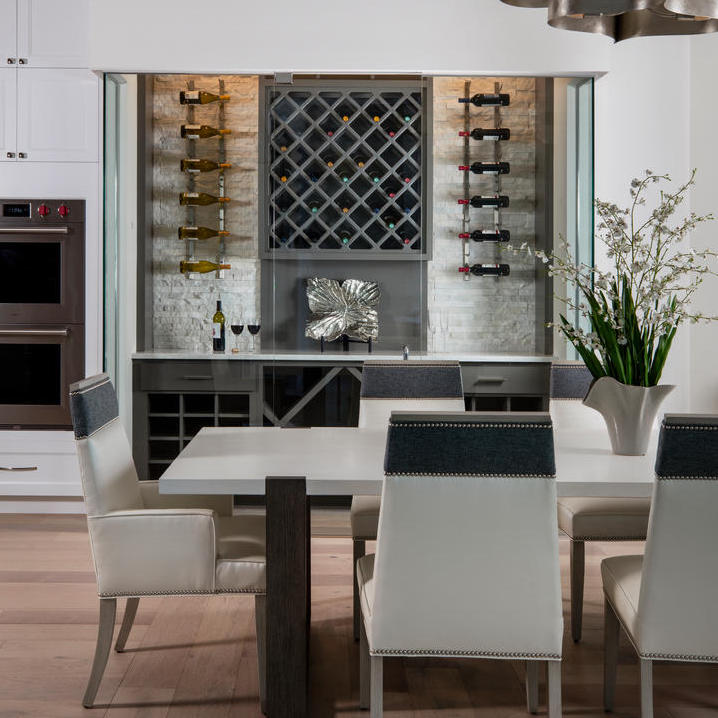 Revamp Your Home With Customized, High-Impact Solutions
Ultimately, creating an extraordinary wine storage solution is a collaborative process that our team takes pride in. At Design West, we offer whole home design services that seamlessly integrate mesmerizing wine storage options into your interior spaces.
It is our mission to collaborate closely with you to create whole-home designs that reflect your personal style and taste.
If you're looking to see how we can incorporate mesmerizing wine storage solutions into your home's design, contact us today!